PaXifica produces commercial work for a diverse range of companies in New Zealand, as well as its own creative projects.
Through our creativity, professionalism and production efficiency, we offer a complete range of services including concept design, scripting and production, through to post-production. We provide high definition digital video and animation for websites, iPad/iPhone, Android, DVD and other digital platforms, including broadcast.
PaXifica creates delivery for commercials, corporations, manufacturing, interviews, training and internal staff communications, health and education, branding, marketing videos, and story driven promos for small, medium and large sized businesses.
Whether your production is large or small, we deliver creatively designed videos of a high standard, using advanced production and post-production technology.
PaXifica's post-production services include graphic design, photography, editing and motion graphics.
Working closely with our clients, PaXifica provides a quality service to create digital content that captivates, compels, entertains and motivates your audience.
Our Logo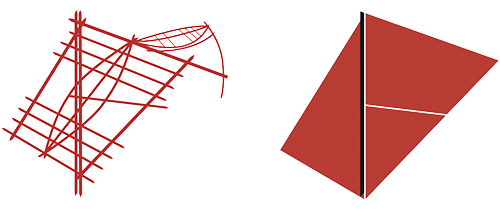 Our logo is based on the ancient Polynesian Stick Charts and the constellation of the Southern Cross.
The Stick Charts were an 'ocean mapping and navigation technology' used by canoe travellers, known throughout the Marshall Islands, Micronesia and Polynesia. 'The charts represented major ocean swell patterns and the ways the islands disrupted those patterns', says Makezine, in their Lost Knowledge section. PaXifica is situated in the Pacific and Pacific Rim and its more experimental activities are creatively navigational.
The other strong influence for our PaXifica symbol, apart from the sails of the sea-faring canoe of the early Polynesian navigators, is another important navigational tool, the celestial formation Southern Cross. And, of course, the stage and its potential for performance.
Type 'stick chart' into wikipedia or http://blog.makezine.com/